A day at the 'Department of Comics'
Friday July 22
Artist and teacher Y Lida shows up at our office with the final page of the Heritage Watch comic.
The staff have been going all out with the translation of the comic. The story was written by Dougald O'Reilly. At the October 2004 Exposition, he met up with Lida and a partnership was born.
Dougald read comics as a kid so he is no stranger to the medium. Very pleased he left superheroes aside to concentrate on a story that fleshes out the background to antiquities theft here. The whole office (Prak Virek, Chey Sereyvath, Huy Samphors and Khieu Kenvich) pitched in with the translation, which was a whale of a job. (Do the protagonists speak countryside Khmer or more formal speech?)
I've been helping in little ways - reviewing the dialogue with Dougald, checking in with Lida, talking to Sereyvath about word balloon placement. This can be one of the trickier aspects of Khmer comics: rinted Khmer tends to run longer and needs wider line breaks due to subscripts and superscripts. (When doing my own comics I tend to write the Khmer version first, then insert English and French.)
So now we're in lettering and design phase, Dougald has come up with a good cover design and logo. (How he manages to do this with a day job on the side, I'll never know.) The whole office has pitched in to arrange meetings, review and scan art, provide background information. It's good team effort, and they'll get to show off their work at the launch.
Working title is Grave Robbers and the Phantom Army.
Feel like we're over the hump now that we have the story pages in the can. The comic will be distributed free to Cambodians and an English language version will be sold to foreigners to help defray the cost. Friends of Khmer Culture has helped front-load the process by adding some support of their own. Launch and exhibition in Siem Reap, this October. Just in time for Lire en Fete 2005!
Piseth and I look over our growing list of historic comics from a private collection. We are preparing a draft translation of the titles so we can prepare an archiving project. With the extra Uth Roeun and Hul Sophon comics, there might be the possibility of an academic paper on pre-revolutionary comics.
And the 1980s era comic books are a real time capsule. Printing houses have names like 'Revolutionary Girl Printing House' or 'Karl Marx Printing House'. Parallel world socialist romance. Far out.
Piseth and I review some notes on Em Satya's 80 page unpublished comic, something we discovered last year and have been trying to figure out a plan for ever since. SIPAR editor Lim Santapheap has given us some comments on the story flow. Looks like this story is not quite ready for publication yet, it will take some more editing.
We then tackle a draft English/Khmer Curriculum Vitae 'CV' example for this evening's meeting at the Cambodian Book Sector Federation.
Kyle's phone isn't working. I ask Piseth to check if Kyle is at his home, he returns from Australia today. Aha! I zip over to his place to borrow his digital video camera. I want to start building an archive of video tapes of comic artists. (Plus I can compensate Kyle in beer.)
Kyle is exhausted and has a pile of dinky-di Aussie trinkets for me, plus tales from the two academic meetings he went to. He went with Heng Piphal and Hang Sophady, the only two Cambodian scholars at these largely Cambodia-centric affairs.
Sounds like the meetings went really well. It was the first time Pipol and Sophady had seen snow or kangaroos. The descriptions made me a bit homesick for Australia.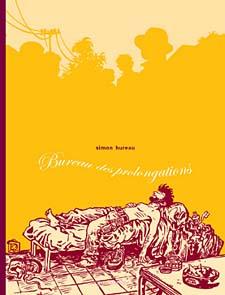 On the way back I stop over at the French Cultural Center's Carnets d'Asie bookshop, They've got Simon Hureau's new book, Bureau des Prolongations. At the end of Simon's first Cambodia comic, 'Palaces', he lost his passport. This one picks up where he left off, and really captures an individual perspective on Cambodia. (His characters speak Khmer but in wobbly handwritten script, which is a good way to indicate a language you're not fluent in.) $30 cover price though, ouch! Will probably wait a while to buy it. (You however can see a fair bit of it online.) Writeup:
Bureau des Prolongations? Today it seems like the Bureau des Bande Dessinee - department of comics. Not that I mind.
Today we're talking about portfolios: how to make one and how to write a CV. In my mind this is the biggest limitation that most artists face: they have the skills but don't know how to professionally present themselves.
I distribute photocopies of the Khmer/English CV to help explain how to write a simple artist CV. While the Federation's Coordinator Rattana helps translate my clunky Khmer I do a bit of filming of the group. I was hoping to do an interview of Soeung Makara or Or Yuthea but neither of them have come this time. It's good to have footage on file though, it can be used for any number of things.
The CVs take more time than I thought, it's a real process to develop one for the first time. Some of the artists have them, some need to make one. At the end of the meeting I ask for volunteers: who wants to try to make a portfolio?
I hand out seven $1 notebooks. Next month we'll see who comes back with their CV and art. I already have scanned and put some sample art online but it needs to be organized into artist pages.
Rattana and I discuss the application for funding we've got to develop. (Hopefully we can include some money for our upcoming 'Komik Cambodia' exchange - this time for a Cambodian to visit Indonesia. That would rock.)
The Federation also could do with some volunteers to help out with the paperwork. Looks like there are plenty of college students who would be interested. Maybe we should place an advertisement, to be thorough.
After two hours in the cafe I get netburn. Enough emails for now. Busy day so I go home and konk out.