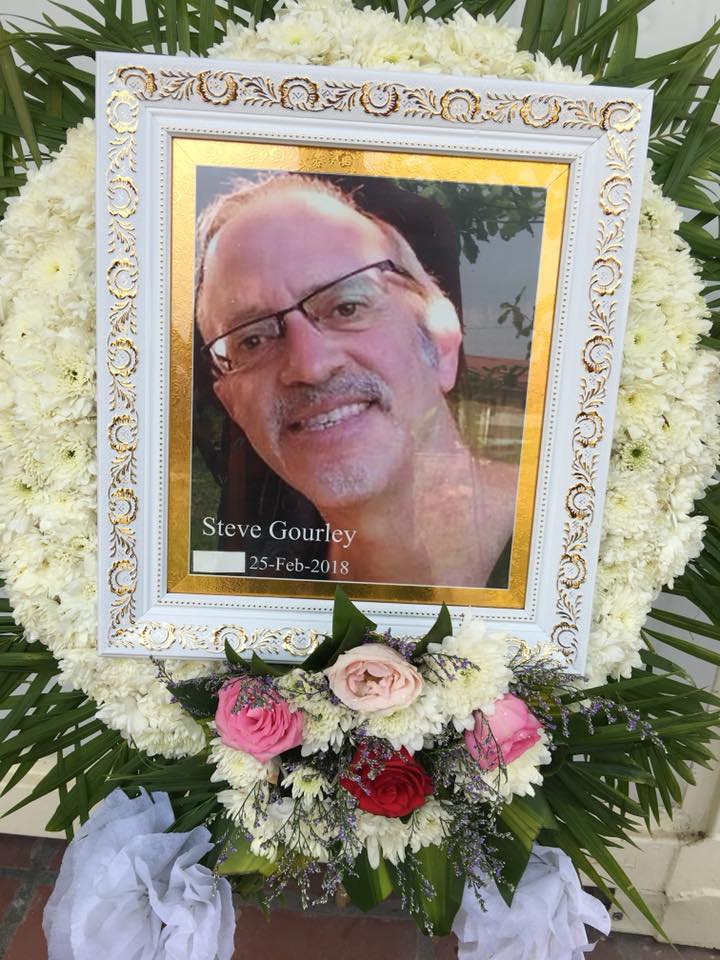 [Above: memorial at Wat Teuk Thla, Phnom Penh. It is open to the public.]
Steve Gourley (51) has passed.
He had been convalescing from head trauma from a moto accident in Phnom Penh in 2017. He had the good fortune to have a good medical cover, and had initially begun recovery in Bangkok.
Fluent in Khmer, he is remembered as an ardent child rights advocate, human rights advocate, and deeply supportive person. He had lived in Cambodia since shortly after studying Khmer at the Southeast Asian Summer Studies Institute  (SEASSI) (1995 class).   Steve was from Stockton, California and had worked with the Khmer community there. We bonded over sharing notes on the expat community; him for Stockton, me for Long Beach.
If you didn't go crazy, you survived SEASSI. (Maybe we did both.) At one point Steve was absent from class three days and I remember loading up on 'flat food' (fruit roll-ups, pop tarts, cheese slices) to slide under his door.  We had the honor of studying with Ketja Soeur, who had joined SEASSI via a Fulbright grant. He remained in touch until she passed away due to sudden heart failure in year 1999.
When I arrived in Cambodia in May 2000, he met me with his 'Khmer Mom' who he'd bonded with after the 1997 crisis.  He'd gained remarkable fluency in the intervening years, and this served him well as he dug deep into child rights issues, with groups such as World Vision and LICADHO among many others. Every time I saw him he had a new assignment, new report, new area to research.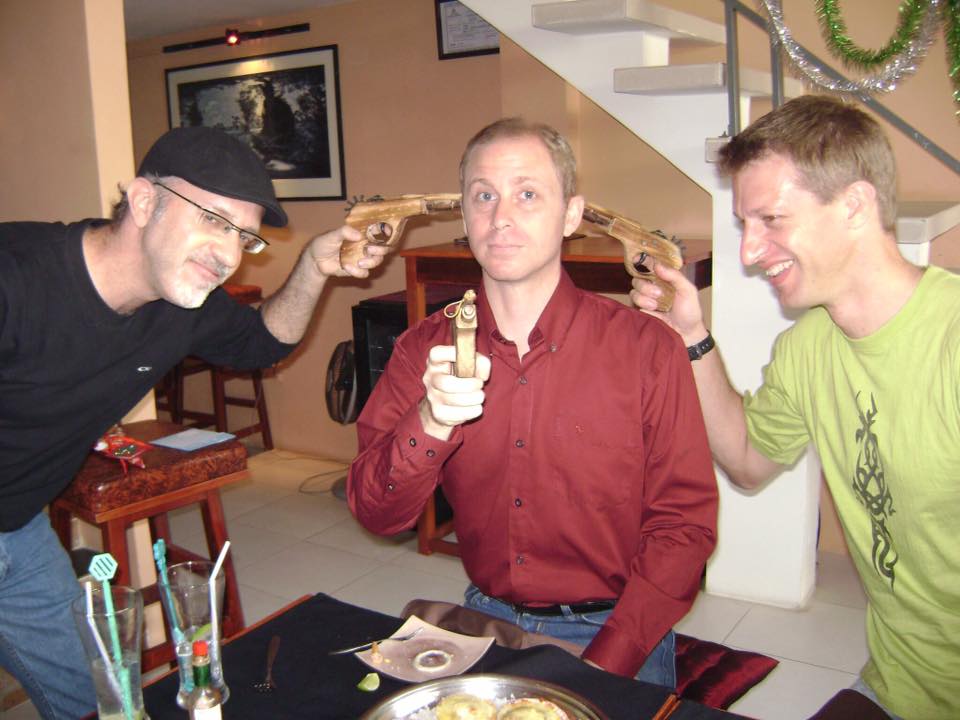 Most people take the ebb and flow of life in Cambodia for granted;  not Steve. One evening we were having dinner on the riverside and one of thbook seller children stopped asked if we wanted any photocopied books. Steve patiently spoke with them and unpacked just how they worked, how they got paid and what their family situation was. The kids were amused and charmed by the barang who spoke such good Khmer, and Steve had another point of reference to work with.
As veterans of SEASSI we frequently touched base, especially when another classmate was in town.  Steve had a strong insight into grass roots Khmer thought and opinions that was honed by years of living in-country with his 'Khmer family'.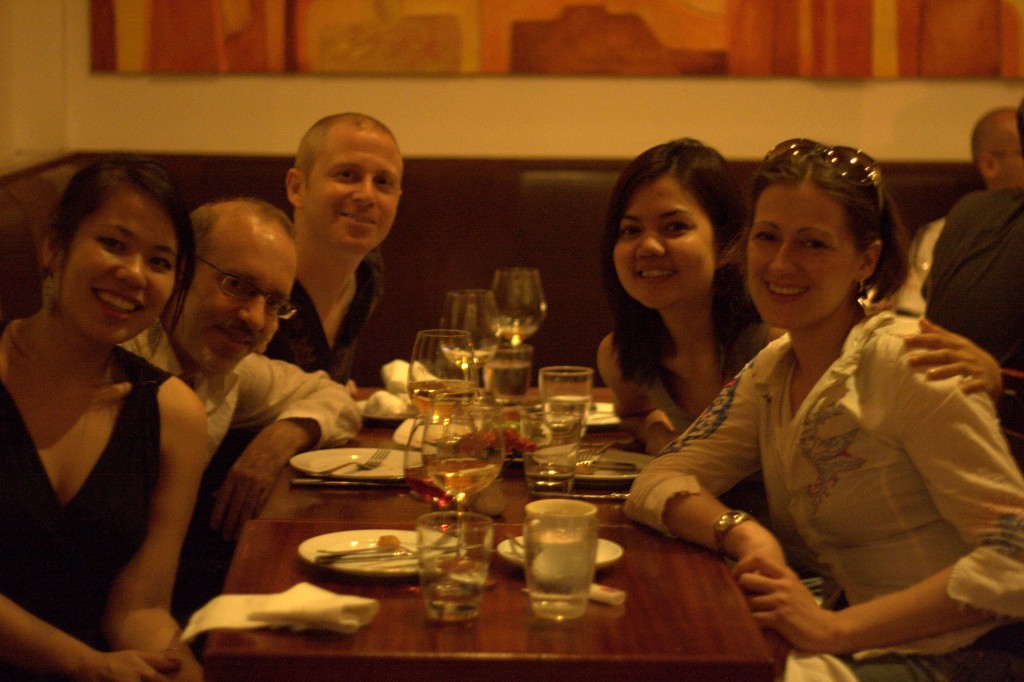 Keeping his nose to the grindstone and living cheaply served him well.  When my family came to visit me, he hosted them for an evening at the apartments he was renovating on Street 178, across the street from 'Friends' NGO. (This task at times seemed more trouble than it was worth, but the apartments looked great.)  This was done in the name of his Khmer family as it's a challenge for foreigners to own property in Cambodia.
Steve returned to the USA in 2011 to look after his mother as she was passing. And when he returned to Cambodia he faced more sorrow when his 'Khmer Mom' passed (2012), he gave her an eloquent eulogy, in Khmer.  Due to a number of family circumstances he decided to adopt her granddaughter – a challenging legal act for someone who is not a direct blood relative.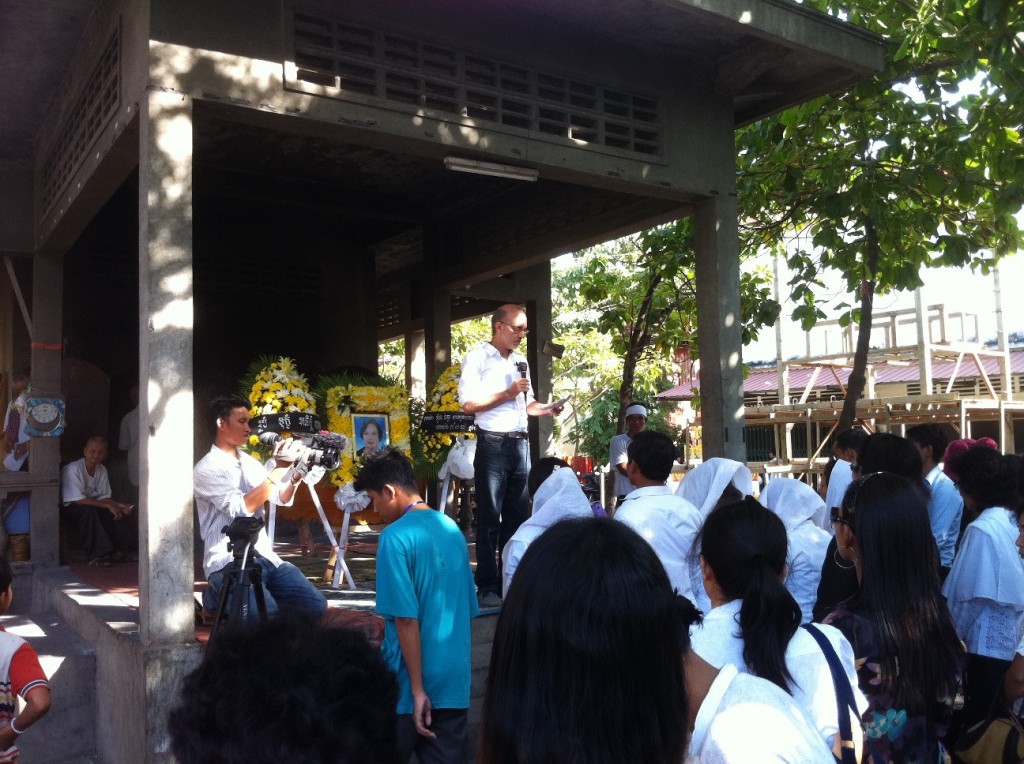 During recent years Steve had aimed to 'go global' and explore most of Southeast Asia (and the world), but often found himself being drawn back to Cambodia due to his skills and knowledge. He gifted us with entertaining travel tales.
In seeing the tributes and comments appear on Cambodia's network of choice (Facebook) I'm reminded that Steve had deep roots in the Christian community. Steve was one of the 'cool Christians' who wouldn't try to convert you; he'd rather talk about the Dhammiyeitra (interfaith peach march) or aspects of comparative Buddhist/Christian theology.
Steve was also a talented musician but extremely modest about it. His love of music included writing and recording his own.
Steve was an enthusiastic mentor and cheerleader for human rights, Khmer culture, and social change. He will be deeply missed.  I have no doubt that he would urge us to both carry on with our work and to aim to be our very best selves.
As a testament to his effort I'll be compiling a bibliography of reports and papers that he wrote / participated in / was cited in as well as memories at www.stevegourley.info . I welcome your help via john @ jweeks. net   (Also, if you want to share text/images from this post, please ask first. They are (C) John Weeks and not for reposting unless given explicit permission.)
Buddhist and Christian ceremonies are slated for coming days. (Friday for Christian remembrance at Diakonia Center.)
(Thanks to Moses for this initial memorial; http://www.forevermissed.com/steve-gourley . Many are also posting on Steve's Facebook page, and a group. https://www.facebook.com/CelebratingSteveG/)
For now I share this email Steve sent to his many friends when he left Cambodia in 2011. He didn't know when he would return, so for him it marked the turning of a chapter. He should have the last word.
For months I've been thinking about what to write about as I leave Cambodia after first arriving in November of 1995. That was nearly 16 years ago – the majority of my adult life! A mind-blower, when I think of it.
I thought of writing about out some of the funny, moving and surreal experiences that have happened to me; or of the hard-earned successes and disappointing failures that occurred in both work and relationships; or how living so long in a no-longer-foreign country has changed me in so many positive and much-needed ways.
But I realize that it would be impossible to describe in words what this time has meant to me. I can only describe how I feel.
And I feel, more than anything else,
just
plain
grateful.
Actually, not just "plain". Really, totally, overwhelmingly, cup-running-over grateful!
I therefore wish to share the following (severely curtailed) yet heartfelt thanks to (but not limited to) the following:
- The clearly divine Love that so unexpectedly led me here – and is just as unexpectedly leading me away. I can't imagine how things would have turned out without the perfectly-timed providence, guidance and grace that I've received from Day One, through a fascinating and constantly-changing array of individuals and experiences.
- Each Cambodian adult, youth and child who welcomed and embraced me into their lives, families, homes and workplaces. One of the best decisions I have ever made is to live and work among your beautiful people, culture and country. I will never forget you – nor stay away for too long.
- Every expatriate who shared their unique culture, calling and friendship with me. Because of you, my life has been enriched beyond anything I could have imagined had I never left "home".
- All of the employers and clients who kept me working nearly non-stop during the 15 years that actually I lived in-country. If I've made even a small difference in the lives of the children and youth of Cambodia, it's because of your belief and trust in me.
- And last but not least, the staff of all the NGOs I worked for; the staff of all the coffee shops, restaurants, nightclubs, cafes, bookshops, market and street stalls that I frequented around Phnom Penh; and all of my neighbors around my little flat near the Mekong.
I learned more about Cambodian culture from you than anyone, and simply enjoyed sharing so many wonderful slices of life with you. Whenever anyone asked me what I liked best about Cambodia I always said "the people!".
And by that I always meant YOU.