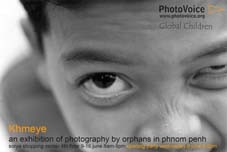 Khmeye
An exhibition of photographs taken by orphans living in Phnom Penh opens at the Sorya Centre (4th floor), Street 63, Phnom Penh on Wednesday 9th June, 6pm – 9pm.
Opening times: Wednesday 9th June – Tuesday 15th June, 8am to 9pm.
The exhibition 'Khmeye' marks the culmination of a ten-week photography course which has been held at the Kean Kleang Orphanage for eighteen young people. The project, initiated through a collaboration between the NGO's PhotoVoice and Global Children, aims to provide the students with a new creative skill through which they can speak about the issues they and other disadvantaged young people in Cambodia face.
Armed initially with automatic cameras, and later with manual SLR cameras, the students have turned the lens in on, amongst other things, their native villages, the orphanage, daily Khmer life and the Steung Chey Rubbish Dump. They have tackled serious issues such as poverty, homelessness and child labour whilst also managing to capture the enduring playfulness and joy of youth.
Situated over the 'Japanese Bridge' and alongside the Tonle Sap River, the Kien Kleang orphanage is housed in an old French convent. One of only two state-run orphanages in Phnom Penh, it is home to 115 children and 20 babies. The majority of children come from the provinces of Cambodia. Some have lost their relatives to HIV/ AIDS, a disease which is at endemic proportions in Cambodia, others died at the hands of the Khmer Rouge – some have been referred to the orphanage after being found wandering the streets of Phnom Penh, selling flower garlands, peanuts or small souvenirs to try and survive.
With an estimated 8,000 people coming through the Sorya centre on an average week day it is hoped 'Khmeye' will bring the voices and visions of this group of young people to a wide and diverse local and international audience.
In time it is hoped at a number of the photography students will continue their studies and undertake apprenticeships with photographic organisations in Phnom Penh and also that the courses will expand to other orphanages in Cambodia. Funds are currently being raised for project continuation both through print sales and through a new partnership between PhotoVoice and the FFC.
About disadvantaged children in Cambodia:
With over half of the population under the age of 18 years, there are serious concerns for the economic and social well being of children. Sexual abuse and exploitation, and trafficking for this purpose, is a major problem in the country. There are many children living or working in the streets or in situations of exploitative labour detrimental to their development and there are reported to be over a quarter of a million orphans living in Cambodia.
About PhotoVoice:
PhotoVoice is an international non-profit organization, based in London UK. Our mission is empowerment – to support people in need around the world in using photography as a medium to 'speak out' about their challenges, concerns, hopes and fears. Working alongside both international organizations and local partners, we provide in-field photojournalism workshops for those living on the fringes of society. Internationally we provide the platform for these groups to exhibit and market their work. Long-term PhotoVoice projects have been set up in Afghanistan, Cambodia, the Democratic Republic of Congo, Nepal, Vietnam and the United Kingdom.
About Global Children:
Global Children is a charitable, non-profit organization dedicated to improving the welfare of children, families and communities in need through the implementation and support of culturally appropriate projects. Global Children has been working in Cambodia since September of 2000 to promote the survival of a threatened culture and for the past three years has been running an Orphanage~Performing Arts Project and an Orphanage~Visual Arts Project throughout orphanages across Cambodia.
Notice to editors:
• BBC online have been documenting the project since its initial stages. To view these stories please follow the link for 'Visual Voices' from:
http://news.bbc.co.uk/1/hi/in_pictures/default.stm
? For more information, to receive copies of photographs from the exhibition and for press enquiries, please contact Anna Blackman, PhotoVoice Director and project manager on 012207281 or Eugenie Dolberg, Project Co-ordinator on 012207284, or write to anna@photovoice.org
?For more information on Global children please contact Heng on 012885 224 or at heng@global-children.org, or view www.global–children.org
?For information on the project in Khmer please contact Mak Remissa, photographer and project trainer on 012724484
•For more information on PhotoVoice visit www.photovoice.org . To support PhotoVoice's work as an individual sign up as a founding friend at: http://www.photovoice.org/html/supportingourwork/becomeamember
• 'Khmeye' will also be exhibited in London October 2004 in association with The Economist Group, who have supported PhotoVoice's involvement in this project.