Phnom Penh Blogger Meetup:
Sunday August 7, 6:00 pm, at Hurley's Cantina.
347 Sisowath Quay, Phnom Penh, Right next to Sunny.Net. Next door to 'Happy Herb's'.
Click for larger image.
It doesn't matter if your language is Khmer, English, French, Spanish, Dutch, German – if you have a weblog, come by.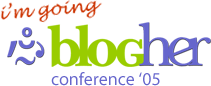 Meanwhile, in Santa Clara California, Beth Kanter (Cambodia4kids) and VillageGirl be 'representin' Cambo styley weblogs at 'BlogHer', a conference for women bloggers. Catch the photos here.
Tags: Cambodia Blog Technology Blogher