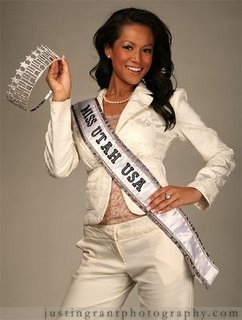 Miss Khmer-ica?
And a round of applause for Miss Utah USA… Soben Huon, as reported by the Phnom Penh Post.
I'm tickled that Utah (often typified as conservative and lacking in diversity) is fielding a Khmer-American candidate.
Beauty pageants aren't really my thing… some people like ballet, others prefer punk rock. But it'll be fun to see how the contest works out.
And I wonder what my Khmer friends will think. Most families in the Cambodian countryside would be horrified to see their daughter enter a public swimsuit competition. But 'Freshie Girl' this ain't.
http://www.globalvoicesonline.org/2006/04/10/cambodia-khmer-american-celebrity-joins-weblogger-community/
http://ki-media.blogspot.com/2006/03/please-help-soben-huon-first-cambodian.html
http://www.asiapundit.com/2006/04/miss_khmerica.html
http://friskodude.blogspot.com/2006/04/cambodian-american-is-miss-utah.html
http://www.heraldextra.com/content/view/172114/
What if she wins? No asian candidate has won the contest yet. A web search shows message boards chattering away:
http://khmer.cc/community/t.c?b=1&t=2467
http://khmer.cc/community/t.c?b=12&t=28908
http://www.khmer-network.com/forum/viewthread.php?tid=3188&page=1#pid12551
http://www.aznforum.com/community//showthread.php?t=808
http://www.khmerfuture.com/index.php?module=My%20eGallery&do=showpic&pid=7308&orderby=dateD
http://tinyurl.com/7aho9
Her blog: http://sobenhuon.blogspot.com/
Above image (c) Justin Grant photography, used for purpose of review/commentary.
Tags: Cambodia,pageant,MissAmerica