Books and Music
This last weekend we had our marathon four hour Annual General Meeting of the Federation for the Development of the Book Sector in Cambodia.
There's a lot going on, including
'Good Books' TV program on TVK,
A research visit to Thailand to meet the publishing community
A move to a new headquarters in the Ministry of Education's Distribution department
Reports from our many committees and subcommittees
'Komik Cambodia' exchange
I've got a soft spot for book people. It's easy to be bookish in a developed, literate country. In Cambodia? You have to struggle more to be culturally literate, and I admire those who have survived times of censorship to emerge as writers and publishers.
And coming up on the 24th? Another annual meeting, this time of the Nou Hach Literary Journal. If you care to look there are heaps of literary groups in Cambodia. I would like to see some more translation. Many of the poems and stories from the Journal have been serialized in Koh Santapheap newspaper.
We finish the meeting – just in time for a massive downpour of rain! My 5 year old motorcycle needs to 'dry out' before it starts. If it was a horse, it might be time to put it out to pasture. I push it down Norodom through some drizzle and stop for some food.
I'm a bit drained, feeling completely nonverbal, and spend some time sketching a comic. By the time I'm finished eating and drawing I give my moto another try and the engine turns over.
I go home intending to review a proposal and do some other work, and then think, fuck it.
I'm wet and tired, I could do with some rock and roll. And a new Khmer band, the "Sub Students", are playing over at Snow's with Betty Ford and the GT Falcons. Dodgy moto or not, that would fit the bill just fine.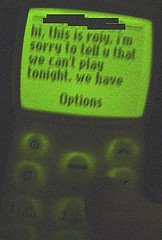 I call my social coordinator Jane for directions, toss on some fresh clothes and zoom off across the Japanese Bridge.
Cool, pals Steffi and Kirsten are there! One Beer Lao later, I run into Matt of the Falcons. Alas, it seems that the Sub-Students are indeed students, and sometimes must nod to the fact that they have multiple responsiblities.
So the headliners take to the stage and shake the rafters.
Like 'The I Love You' band? You'll love this one.
Here's 30 seconds of blurry video courtesy digital camera. (Anyone else got pictures to share?)
http://www.archive.org/download/bfordgtfalcons_snows01/bfordgtfalcons_snows.MPG
Been keeping Khmer hours of late (6am start) so I don't stay for the whole set. It's my loss. Here's hoping I can catch both the Falcons and Sub-Students again in the near future. It's a great closing to a crazy day.
Tags: Cambodia