In Search of Khmer Hip Hop Part 7:

In this episode: Uncle Kleang, 'Hip Hop Girls', Casa gigs.
I'd been looking for more by Bu Kleang (Uncle Kleang), and last weekend at Tuol Tompoung Market I finally found it. The real show stopper on the album (click for front and back covers) is 'Because I Was Drunk' which has been around in various forms for the last 6 months or so.
'Piprueh Kynom Sravang Sraa' is great because it sincerely, politely apologies for a host of mistakes, the excuse being simply 'I was drunk.' Justification enough. Catchy enough for Barangs to sing along.
The rest of the album is pretty good, I'm not familiar with the label. No clue if Bu Kleang is local or Stateside, or how long he's been performing. (My CD has been forcibly 'borrowed' by friends.) For additional info, you could try: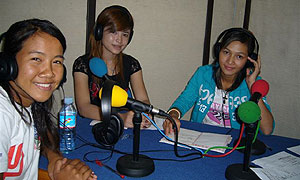 'Hip Hop Girls' , a radio show Sunday at 3pm on FM 103. Hosts are Ou Banung (16) and Mon Savthey (17). (Picture courtesy BBC, cheers to Chamta for tipoff).
Looks like its funding comes from the HIV/AIDS education angle. (What can't NGOs justify under its rubric? Ah well, if it gets me some hip hop programming I'm not complaining.)
Between that and Casa's weekly event, it seems Sunday is Hip Hop day in Phnom Penh.
http://del.icio.us/slugdog/HipHop