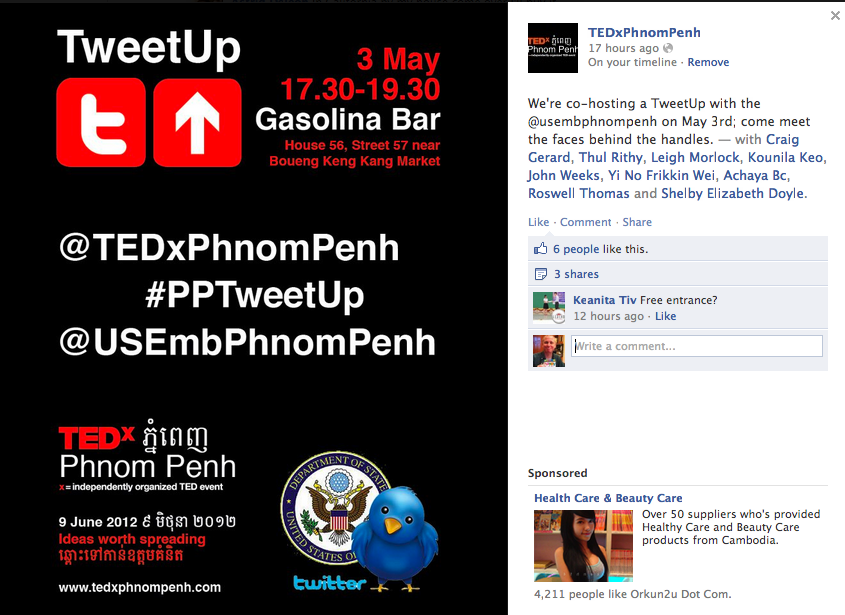 When TEDxPhnom Penh initially launched in Cambodia, I assisted with the organizing committee, and encouraged friends with prior TED experience to participate.
Over a period of several months I came to realize that TED is quite a popular name and event.
TED talks are volunteer-run events, and as such can take considerable time and effort.
My hat's off to any team that can pull it off smoothly.
For the first talk (2010) I dropped out after several months of meetings. I simply couldn't commit enough time. I also had some reservations about speakers being selected from members of the organizing committee, as well as internal transparency in the decision-making process. I figured those items would be fixed as the talks became a yearly event.
In 2011, an anonymous email invited me to participate in TedXPhnomPenh by evaulating potential speakers. I replied with two questions:
- Who was involved this time?
- How much time would this require?
I never received an answer.
In March 2012, another anonymous email invited me to be a judge for 'TedXPP'.
This time my query was simple: Who are you?
This time I got a response. The TEDxPP team would web up a list of their members on their web site. (Hasn't happened yet.)
Nearly a month later, I find out (via Facebook) that I'm being listed as an attendee at a 'Tweetup' for TEDxPP with the US Embassy. I did not solicit nor approve this announcement. And I still don't know who's doing what for TEDx.
I think TedXPP is an interesting idea, and am pleased they have invited friends of mine like Kounila Keo and Preetam Rai. I'm also pleased that the US Embassy is reaching out via social media.
I would like to clarify that I will NOT be attending this meeting. I will also be withholding my endorsement of TEDxPP until they publicly list their staff. It's a great concept, but the team needs to get their act in gear.
———-
Postscript: The TEDxPP site has just added their volunteer list, sans roles.