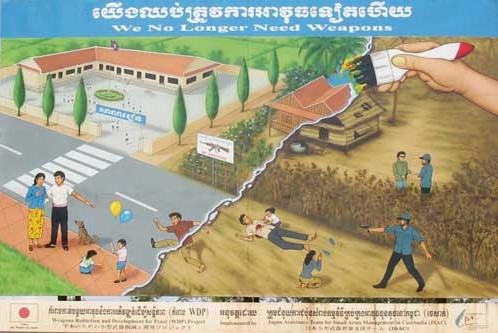 There's been a lot of talk in the last 48 hours about 'anarchy' and 'secession'.
These terms been used to justify an armed raid upon a village in Kratie province's district of Banteay Domrei.
(The village name can be transliterated as Broma / Prama or Proma, depending on how you prefer to spell it.)
Let's take a look at the language:
NY Times/AP: Girl in Cambodia Killed During Violent Eviction
Government forces secured the area and were hunting for five accused ringleaders who escaped into the jungle, Sar Chamrong said. He alleged that the protesters were trying to set up a self-governing zone outside of the law.
AFP Cambodian girl killed in land row: rights groups
National police spokesman Kirt Chantharith told AFP he had no information about the fatality but said armed forces had been deployed to the area to prevent villagers "trying to control the land illegally".
The Independent: Cambodian security forces kill teenage girl during clash with villagers armed with axes and crossbows 
Provincial official Sar Chamrong said government forces had secured the area and were hunting for five accused ringleaders who had escaped. He claimed the protesters were trying to set up a self-governing zone outside of the law.
The Phnom Penh Post:Teenage girl gunned down by security forces during eviction
The forces were ordered to evict the residents by a joint committee of Minister of Interior Sar Kheng, National Police chief Neth Savoeun and Kratie provincial governor Sar Cham Rong, which accused them of forming an autonomous state through a group called "Democratic Association".
The Cambodia Daily: Teenage Girl Shot Dead by Security Forces
Provincial Governor Sar Chamrong: "All the illegal acts that have been committed by the anarchic ringleaders are against the state's authority, which comes from elections and principles of democracy, and is an attempt at secession." (May 17, P.1)
DW:DE:Cambodian land dispute escalates as teenager is killed
For its part, the Interior Ministry issued a statement on Thursday claiming the protesters were an "anarchic group" trying to set up a self-governing zone outside the law.
Phnom Penh Post: Mourning villagers flee
Pov Ban said he was unaware of any plan by Bun Ratha to create an autonomous state, saying he had merely attempted to help villagers in their dispute with the Russian company Casotim – which has a 15,000-hectare economic land concession about 15 kilometres from the village.
Cambodia Daily: Kratie Village Sealed After Girl's Killing
"The original villagers – more than 360 families – living here there are very happy with our operation because they have been extorted by those anarchists for a long time, " Mr. Chamrong said. We could not let them stay longer, otherwise these ringleaders would gather more and more people from everywhere to grab the state land and secede," he said. (May 18, P. 1/22)
Just what were these folks doing, translating Kropotkin? Setting up an anarcho-syndicalist commune? Laughable.
Licadho adds some much-needed context.   http://www.licadho-cambodia.org/pressrelease.php?perm=277
I wonder how actual 'card-carrying' Anarchists in the West would view this?