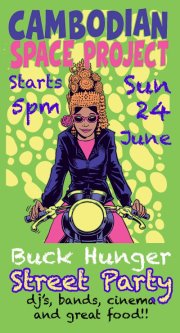 The Cambodian Space Project is doing a fundraiser for BuckHunger soup kitchen!
Sounds like a fun event all around.
Buck Hunger is going like gangbusters to provide free food on a very simple model.

One recommendation that would make the whole operation more palatable: if the organization targets children, I'd be a lot more enthused if it was a registered 'ChildSafe' organization. Individual and large-scale donors could give with even greater confidence.
If BuckHunger can get this accreditation as a part of their menu of future activities? That'd ROCK.     : )
More:
http://buckhunger.com
http://www.childsafe-international.org/
http://www.facebook.com/pages/The-Cambodian-Space-Project/102538263132453
Postscript: Phnom Penh Post, June 22
http://www.phnompenhpost.com/index.php/2012062256975/7-Days/cambodian-space-projects-rescue-landing.html