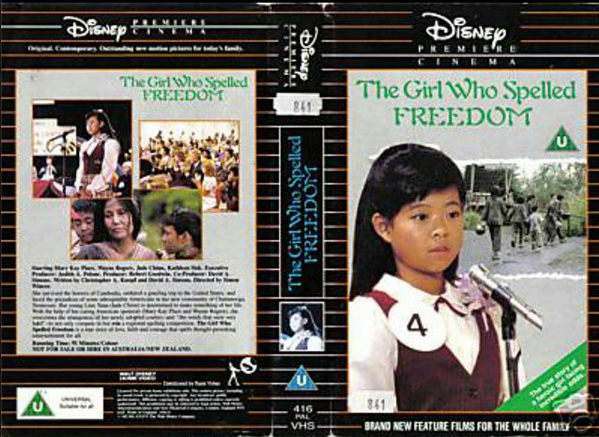 A tidbit courtesy Silong Chhun.
In the 1980s and 1990s, there were weren't so many books and films about contemporary Southeast Asia in the West.
To be considered a scholar of Cambodian history, the first step was to simply read everything on the topic. And there wasn't that much explicitly about the country or the area. It was simply "read everything, watch everything".
Today I'm pleased to observe that's not entirely possible. There are many more books, publications, films, comics and music. And many more in the voices of Cambodians themselves.
This is a cheesy Disney TV movie. Those who can speak Khmer won't hear much of it. But as people have pointed out, it was an attempt to show real-world situations, and one of the very first opportunities for Khmers to recognize themselves in the media.
Additional background:
http://www.nytimes.com/1983/04/30/us/mexican-food-trips-asian-refugee-in-spelling-bee.html
http://www.people.com/people/archive/article/0,,20093030,00.html
http://www.apnewsarchive.com/1986/Teen-Ager-From-Cambodia-Says-Freedom-Spells-Something-Else-For-Her/id-3cd3445b0182fbe07a94f156357b3f30
http://disney.wikia.com/wiki/The_Girl_Who_Spelled_Freedom
http://www.imdb.com/title/tt0091115/
http://www.daltondailycitizen.com/news/local_news/refugee-tells-students-of-childhood-survival-in-asian-jungles/article_ec8e9615-dbb9-5fc7-b2e9-52b4690fe526.html
http://www.thedepauw.com/news/view.php/13388/DePauw-alumna-Linn-Yann-featured-in-made
http://www.timesfreepress.com/news/local/story/2013/jul/14/whatever-happened-to-catching-up-with-girl/113266/