I'm pleased to note that academic and friend Erik Davis is launching his new book at Meta-House Tuesday evening.
"Book Launch About The Buddhism" https://www.facebook.com/events/888602147861478/


Note: *Free Finger Food*!!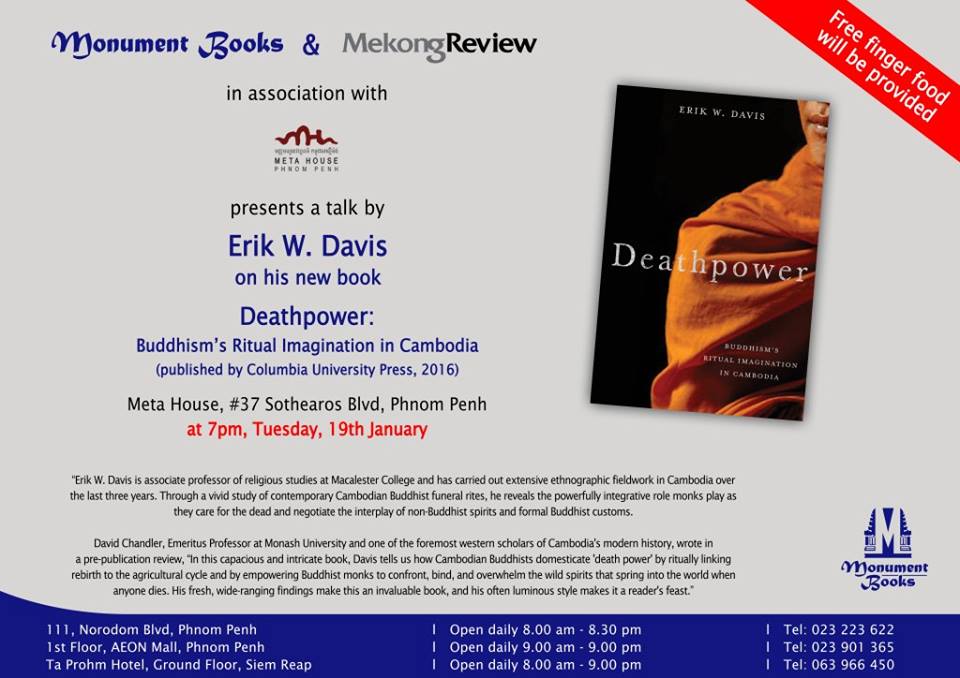 While funerals can be a bit socially taboo to discuss, Erik's extensive religious studies background enables him to profile unique and fascinating glimpses into how ritual practice informs and reflects on everyday reality in Cambodia.
You can find the book on sale at the event, or at Monument Books in Cambodia.
Some background and context:
http://sea-globe.com/erik-w-davis-buddhist-monks-cambodia-southeast-asia-globe/
http://www.phnompenhpost.com/post-weekend/deathpower
http://www.phnompenhpost.com/post-weekend/how-serious-are-cambodias-land-rights-protesters-about-their-curses
http://www.phnompenhpost.com/meeting-white-witch-kampot
http://www.phnompenhpost.com/post-weekend/his-hometown-mysteries-abound-about-fake-%E2%80%98buddha%E2%80%99