Bookwatch: Apsara Jet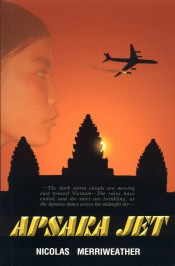 How did this one slip past my radar? Apsara Jet was published in 2001. Usually Cambodia related novels are bootlegged in photocopy version here, I'm surprised it hasn't popped up at stately Monument Books – or the Psaa Thmei.

I'll probably be able to get a copy next time I'm in Bangkok. Apparently the author garnered technical and regional details from his time flying the 1970s Phnom Penh airlift, when the capitol was increasingly cut off from the countryside.

For more on the airlift, perhaps the most detailed summary is a personal memoir by Charles Heckman, The Phnom Penh Airlift: Confessions of a Pig Pilot in the Early 1970′s. It alternates from the dry and technical (logistics) to hilarious (booting livestock off overloaded planes) to tragic (the approaching fall of Phnom Penh).
Sorry to say that 'Pig Pilot' is out of print. It's a strong personal document of a very specific time. Best to check your local library or used bookstore.

More:
Apsara Jet by Nicolas Merriweather http://tinyurl.com/owgdo

The Phnom Penh Airlift: Confessions of a Pig Pilot in the Early 1970′s
by Charles W. Heckman http://tinyurl.com/rj8ym

Tags: Cambodia