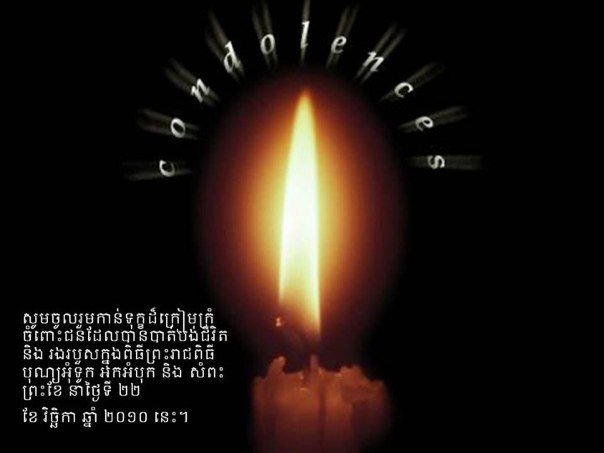 WORKING DOCUMENT
Updated 11/22/2010 11:10 PM PST, USA (thx PDP!)
Updated 4:15 pm Nov 27 Cambodia time JW
Also, Bayon TV and CTN have been requesting donations since the early morning of the 23rd for local disaster relief.
DONATIONS:
National Committee for Disaster Management
(Click for full list of members)
Donations, which will be distributed to victims and their family, are accepted through representatives of the 10 universities in Phnom Penh and will be transferred to officials in charge of stampede victims committee.
Co-ordinating with:
Caritas,
OXFAM International,
World Vision Cambodia,
CARE, and
Save The Children .
(Total pledges $27,000)
also: Grace Henry of Hope, Phnom Penh
Phone: +855 11 738 949
COMPENSATION TALLY:
NGO Pledges
(above): $27,000
Government: 5 million riel ($1200) + transport of deceased
Royal Family: $200 per deceased, $100 per injured
Sam Rainsy Party: 20,000 riel ($5) to families (Source for above: Cambodia Daily)
Cambodian Centre for Human Rights: food to families
Koh Pich (Diamond Island) company: $1000 per deceased, $200 per injured. (Source: Xinhua)
Bayon TV Telethon: $1,050,00 (Source: Cambodia Daily)
CTN TV Telethon: $251,000 (Source: Cambodia Daily)
FOR MISSING PERSONS:
Info Hotline: 078 7675 60 ~ 74 (15 Lines)
Phnom Penh City Hall: 016-866159 / 012-520520 / 016-78888
Ministry of Social Affairs: 012-910000 / 099-860453
GLOBAL
November 25, 2010: National Day of Mourning
CEREMONIES
1) LONG BEACH, CA, USA
Candlelight Vigil, 11/23/2010
@Sophy's Restaurant, 8 PM
2) PHNOM PENH, CAMBODIA
A condolence parade was scheduled for 25th November from Independence Monument to Koh Pich starting at 5:00pm.
From http://www.facebook.com/pages/2211-Commemoration/119899688073511 / http://22-11foundation.blogspot.com )
"National Mourning Day" – wear black
http://www.facebook.com/event.php?eid=169265896427819
Alternately, wear white: 'We're going to wear WHITE Shirt to join condolence on national mourn on 25 nov 2010′ Facebook Group: http://www.facebook.com/event.php?eid=178358005507685
FOR LIVE VIDEO FEEDS:
FOR UP-TO-DATE NEWS AND DEVELOPMENTS:
Google News: http://bit.ly/gkfNX5
Blogsearch:http://bit.ly/foxpZV
Forums: http://bit.ly/hk924J
Twitter
http://twitter.com/tweetcambodia
—-
This list will be updated regularly and was originally posted by Phatry Derek Pan on Facebook.
On January 01 2011 This post will move to a static page: http://jinja.apsara.org/koh-pich-stampede-resources/. Both blog post and static page will contain the same information. We will be deleting some of the finished events shortly.
One Response to "Koh Pich Stampede Resources"