The Cambodian Center for Independent Media launched its 'Legacy of Impunity' exhibition at Meta-House this evening, in tandem with Cambodian Center for Human Rights' "Never Forget" (at the Mansion, Foreign Correspondents Club). Both were launched in solidarity with today's International Day To End Impunity for Crimes Against Journalists.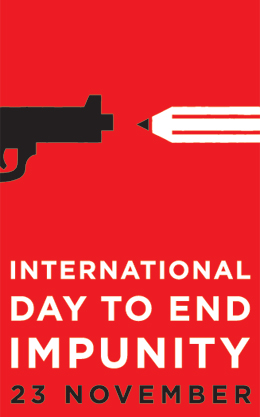 I missed the CCHR event but at Meta-House, I was intrigued to find some very clear and solid documentation of the peril frequently facing local Khmer journalists.
Why a gallery exhibition? One could say there is art in a good story. And secondly, as the political sphere has become increasingly unstable over the last two weeks, this is a relatively safe way to express concern for those who uphold democratic institutions.
Freedom Park and the concomitant issues surrounding it could be reserved for an exhibition on just that brief and dramatic period.
CCIM's 2014 report: http://www.ccimcambodia.org/reports/116-challenges-for-independent-media-2014
Two exhibitions, six days left. Well worth your time. And do take a moment to sign the 'Justice For Journalists' online petition: http://www.change.org/p/justice-for-journalists-kh
(Logo (above) provided by International Free Expression Exchange ([IFEX]) for International Day to End Impunity.)